2 days until NXT's biggest event ever, Takeover: Dallas, the men and women of NXT will definitely try to make a statement heading into their matches.
WWE NXT

March 30, 2016
Alexa Bliss' Road to Redemption
Although she doesn't have a match at Takeover, Bliss is trying to become a contender for the Women's championship again and get another shot at the title. Last week she defeated Sarah Dobson in very dominating fashion. Was it clean? Hard to say. Did Bliss use Blake and Murphy to her advantage? Some would say, but that doesn't matter. What matters is who will be getting the next championship match. Bliss looks to be that person, but will someone show up this week to stop her?
Drifting to a Takeover match?
Furious over his loss against Johnny Gargano last week, "The Drifter" Elias Samson attacked him after the match, that was until Apollo Crews made the save. Crews challenged Samson to make a move, but The Drifter would not have it. Is the result of this confrontation a match between the two at Takeover: Dallas? Or could we see a rematch between Samson and Gargano at said show? Maybe it can just be a Triple Threat match to see which of the three are better.
The Final Countdown
#1 Contender for Bayley's Women's Championship is Asuka, a breakout star in NXT. Having been very impressive, especially after defeating Emma last week in a very good match, will Asuka do something else that'll show Bayley just what she's up against come Friday? Bayley has fought for years to get where she is on the roster, can Asuka, who's only been here for a few months, take it all away? Asuka definitely has the skills to do so, it all depends whether or not Bayley brings out her best. Will we get a sneak peek at what's to come between these two?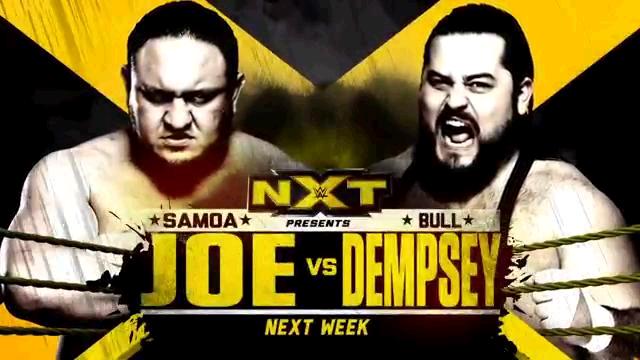 "Joe's Gonna Kill You"
He's motivated. Samoa Joe isn't playing games anymore. He is ready to become NXT champion at Takeover: Dallas, but there's one thing stopping him from doing so: Bull Dempsey. After being attack by Joe last week, Bull Dempsey sure will not be giving Samoa Joe an easy time in their match. With with NXT Championship match mere days away, will Samoa Joe be able to defeat Bull Dempsey and go into Takeover with full momentum, or will his concentration distract him and allow Bull to take advantage?
---
Read We Write Wrestling's NXT Takeover: Dallas preview and predictions.
Follow We Write Wrestling on Twitter